Welcome! My name is Amanda and I am a Stress Management Consultant and Niroga Institute Certified Dynamic Mindfulness Trainer. There is one universal issue that has permeated my professional career, years of academia, and my daily interactions with friends and family - stress. We are experiencing a stress-epidemic, and no one knows how to manage it. Stress is literally making us sick, and costing American companies roughly $300 billion annually.
Between working in education and teaching mindfulness practices like yoga and meditation there's something else that I've noticed... it. is. exhausting. When you're in a position of service (think teachers, mental health professionals, non-profit, energy work, etc.) it's very easy to become susceptible to secondary stress/trauma. Do you know what that is?.. That is the stress that you absorb from simply working with others that are stressed.. & the not so fun fact of the matter is - studies show us that the symptoms of secondary stress/trauma mirror the symptoms of primary stress/trauma.
SO...
I've decided to take on this mission of helping you maintain your best self and create great days by teaching you how to manage the stress you take on each day. Most of us don't enter this work without a level of compassion and commitment to making this world a better place. Don't let burn out from stress stop you from doing what you love!
The Niroga Institutes Dynamic Mindfulness is an evidence-based, trauma-informed, stress resilience practice that has been embraced by professionals in this country for over a decade. Dynamic Mindfulness is an intersection of movement, mindfulness, and meditation practices that are accessible and help create and manage environments for wellness and recovery. This practice includes mindful movements, breathing techniques, and meditation practices, which, when integrated, are essential for managing stress, self-care, and healing from personal and secondary trauma.

Learn dynamic mindfulness for both personal and professional stress resilience. This practice helps you to improve emotional regulation and increase well-being. In these classes, you will find different tools that are quickly accessible and easily implemented throughout the day. This practice is for anyone interested in learning about Social Emotional Learning ("SEL") practices that enhance stress resilience and emotional regulation.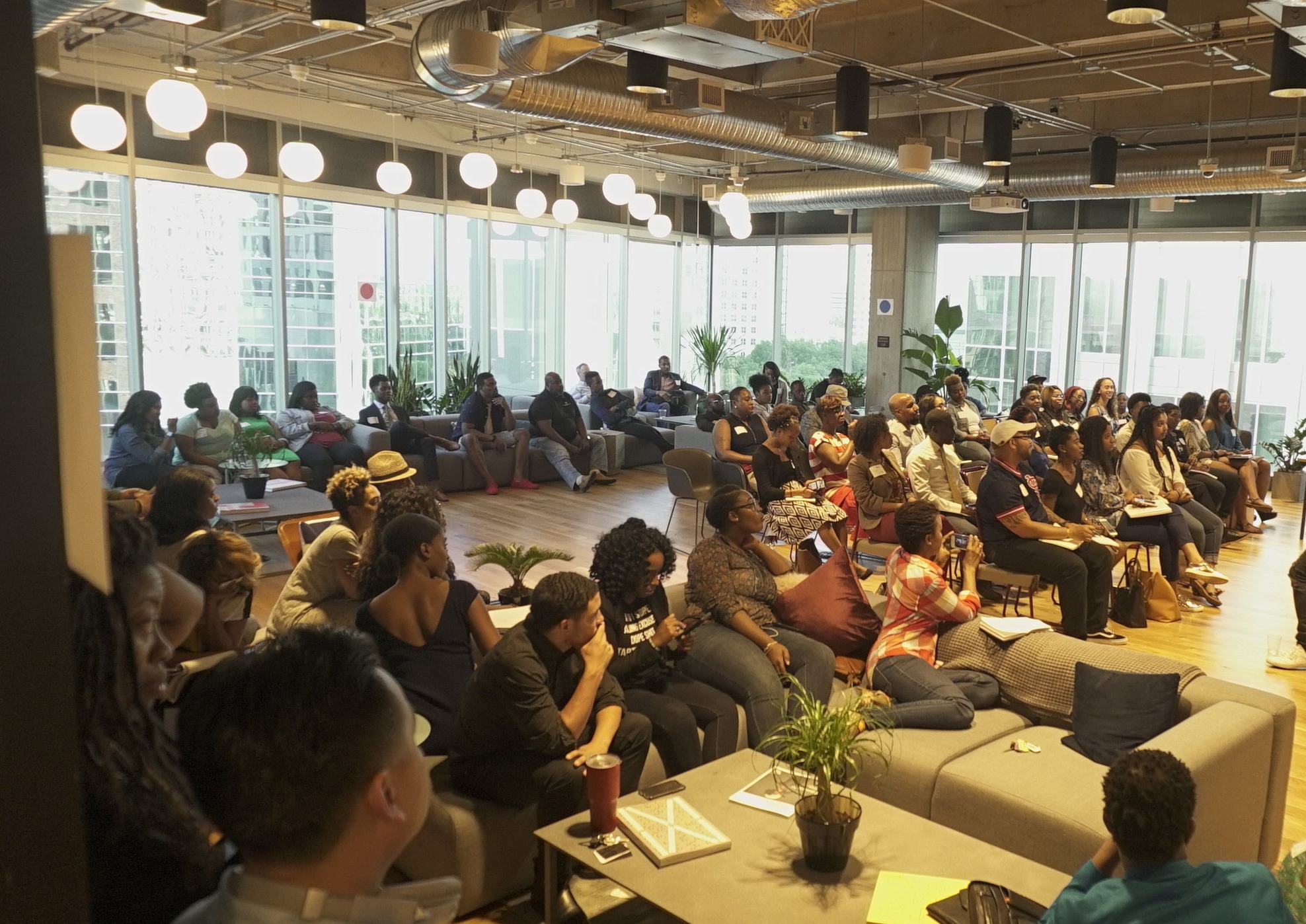 stress management workshops
With a Stress Management Workshop you can educate your staff on what stress is and why we need to work on the way we respond to it. The goal of the workshop is to help them identify their signs/symptoms of stress and provide them with accessible tools for managing it while equipping them with strategies to become more resilient to stress in general.
Stress Management Workshops may include a workbook, and covers a range of topics around self-care and stress management.
Workplace Wellness is a fun, healthy, and effective way to boost morale and productivity in the workplace. We tailor the practice to fit into your office space and your corporate culture. Consider us for your Corporate Wellness Classes, and let us lead your employees through 30 - 60 minute yoga & mindfulness practices.
We offer the following classes:
Mindfulness Meditation: Practice relaxing and reflecting to return to work with clarity, focus, and a sense of calm.
Breathing exercises: Learn breathing techniques to relax, regroup, and reenergize for your day.
Dynamic Mindfulness: Learn about managing stress, accessible stretches, centering, & breathing techniques you can do right at your desk.
Yoga I: Gentle yoga flow, breathing exercises, and centering.
Yoga II: Flow between yoga poses at a moderate pace.
INTERESTED IN services FOR YOUR self, GROUP, ORGANIZATION, OR COMPANY?
Interested in working with Amanda? Have Questions?
Call 972-413-8806 or Email Info@AmandaMuhammad.com for more information.
ALSO, add your name and email to stay updated on upcoming events!